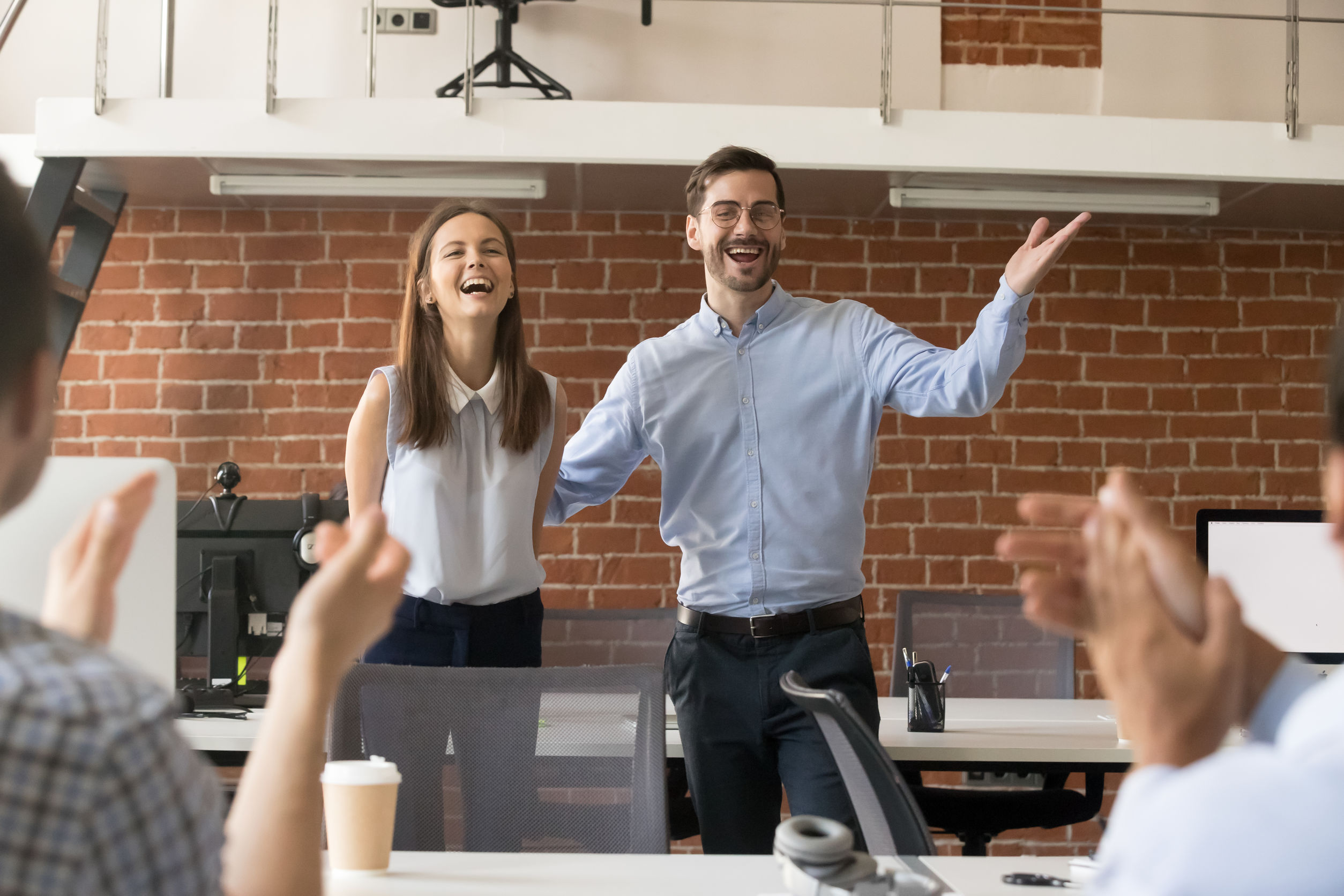 Employee recognition is about acknowledging the hard work of the employees within your company. And it is a crucial element to employee engagement and happiness. Simply put, a solid employee recognition strategy leads to stronger engagement, increased employee morale, and lower employee turnover.
The best recognition tactics make employees feel valued and respected. But, creating an effective recognition strategy from the start is not as easy as it looks. Here are 4 simple tactics you can incorporate today to jumpstart your employee recognition program.
1.    Positive Feedback
Give positive feedback to employees when they produce exceptional work. As simple as this may seem, positive feedback is an effective—and simple—way to recognize your employee's and/or team's hard work. Praise motivates people to work harder, so sharing positive feedback on a regular basis, whether through a quick shout-out in the meeting or through email, is a good way to jumpstart your employee recognition tactics.
2.    Employee of the Month
Create an "Employee of the Month" program, one that recognizes the month's top-performing employee. A formal employee recognition process like this can instill a sense of pride within the employee, encouraging stronger engagement and motivation. But we recommend making the nomination process an inclusive activity, not one that only upper management gets to dictate. Including everyone's opinion in the process will make them feel valued and respected as employees throughout this process. Looking to go the extra mile? Take it one step further and create a "Wall of Fame," with pictures of your past "Employees of the Month."
3.    Wellness Day
Show your support for wellness with an Employee Wellness Day. Creating a culture of wellness at your company is guaranteed to inspire, educate, and engage employees. Self-care activities, such as on-site massages, mindfulness sessions, or fitness classes will give your employees a much-needed break. And this refreshing break will create the understanding within your employees that their hard work and efforts are being recognized and valued.
4.    Catered Lunch
Host an employee appreciation lunch for your employees. From fully catered meals to box lunches, there are endless ways to bring a catered meal to your company. Treating your employees with lunch is a great way to show that you appreciate them for their hard work. If catering a lunch for the entire office is too much, then try providing catered meals department by department, or team by team.
Bonus tip: Recognition and rewards software
Implement a recognition and rewards software to better track and reward your top-performing employees. Employee recognition tools can automate your strategy for a smoother employee recognition program. With hard data, these software platforms give a data-driven insight into which employees go above and beyond in their roles as well as automatically provide recognition and rewards to those who exemplify company culture.
With these simple tactics, your employee recognition program will have a strong foundation. Your employees will feel recognized and, therefore, motivated to work harder for your company. But, if you want to learn how to attract, reward, and retain your employees in the long-term, reach out to CorpStrat today.