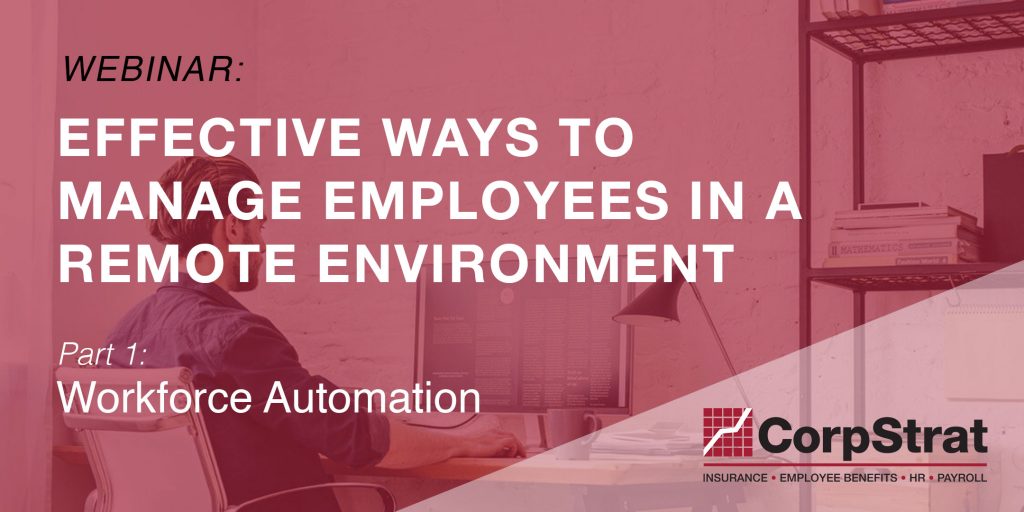 There's no doubt about it: our workplaces are going to look very different post-COVID-19. This might mean keeping some of your team remote indefinitely, changing the layout of your offices, or switching up your workflow to fall in line with health and safety guidelines. We can't force things back to how they were but we can focus on setting you and your employees up for success in the "new normal". 
A few weeks ago, we gave a webinar on "Effective Ways to Manage Employees in a Remote Environment" in which we shared how companies can streamline their HR processes and maintain company culture.  We're excited to bring you the webinar in four parts: Workforce Automation, the New HR, Benefit Package and Company Culture. 
Part 1: Workforce Automation
According to Capterra, 91% of professionals who work at small and medium sized businesses say workforce automation software is crucial, but almost 58% of them are not using it. That's a huge gap. In our post-COVID-19 new normal, we believe more teams will adopt work from home policies which will make automated HR management software even more necessary. 
The Danger 
What's the danger of not having a workforce automation system? Companies have done it the old-fashioned way with paper for over 50 years. What's the fuss? 
The reality is too many things can fall through the cracks. The fact is, relying on paper processes when you have a remote team becomes inefficient very quickly. A simple paid time off (PTO) request can mean piles of paperwork, redundant requests, and scrambling to calculate accrued balances—all leaving opportunities for potential oversight. With the technology available today, it's a no-brainer to make the switch to an automated workforce system. With an automated system in place, your employees can submit a paperless request via their self-service portal, their time gets deducted, and it automatically updates in payroll. 
How to Avoid 
Help your employees help you by giving them self-service logins that allow them to access and edit their information. There's a dual-sided benefit: if employees are able to make edits to their W4, change their address, view and sign items, submit PTO requests, and enroll in benefit plans, then they'll feel empowered AND it will relieve the stress of managing manual processes.
The Opportunity 
In addition to making things run more smoothly, there's also an opportunity to eliminate potential lawsuits. Instead of worrying that employees can cite "you never told me", you can keep track of everything in one database. This ensures nothing gets lost in the mix. Integrating employee lifecycle events into one system means that events are readily accessible at all times.
CorpStrat Tip:
We've seen many employers embrace workforce automation, but only in part. The market is filled with systems that offer piecemeal solutions: some just do new employee on-boarding, others only do benefit enrollment. Adopting separate services that don't work together creates more manual work for your team.
We think employers should focus on making sure to streamline all employee lifecycle events into a single database that connects payroll and employee benefits into one system and has a powerful mobile application.
–
Interested in streamlining your workforce automation? Schedule a call with a CorpStrat agent: info@corpstrat.com