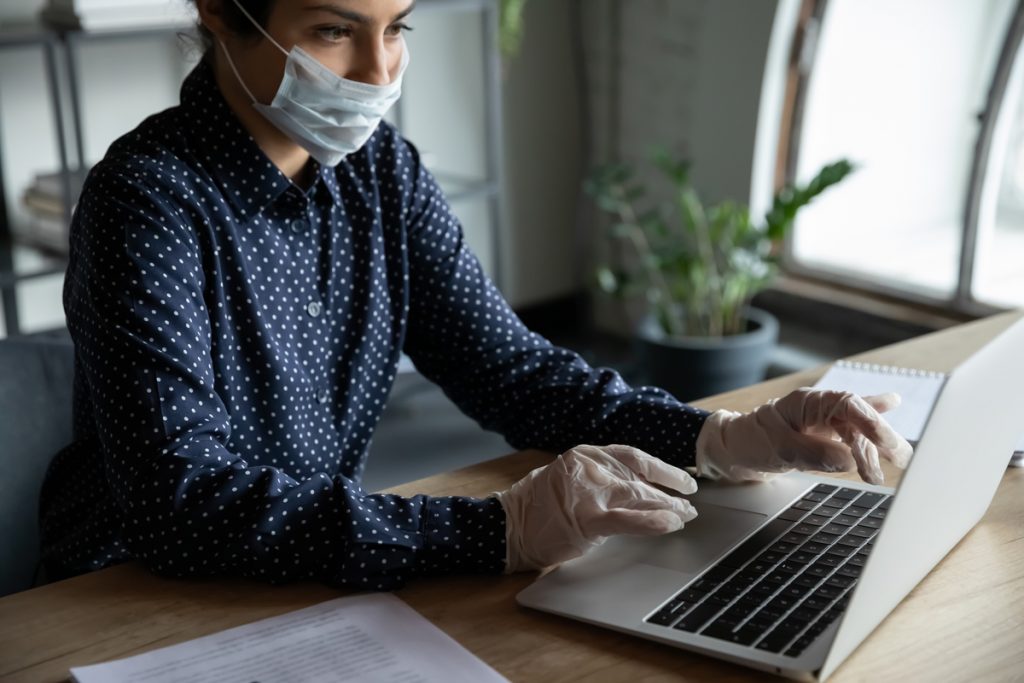 If your team has gone remote due to COVID-19, you already know how difficult it can be to make sure employees are feeling valued and appreciated. Even though employees are saving time on their commute, studies have shown that, on average, the lockdown workday is 48.5 minutes longer. Which means it's more important than ever for employers to get creative when it comes to commending their team's hard work. Including a Work From Home Plan as part of your benefits package can help you make sure your remote employees are being rewarded for their efforts.
Here are 8 things to include in your Work From Home Benefits Plan:
1. Monthly Lunch Stipend for Managers
Pre-COVID, many companies would have perks like free lunches a few times a month. Company-wide lunches aren't feasible in the current climate however, giving managers a monthly lunch stipend to treat their team to take-out or delivery meals is a great way to ensure team members feel appreciated.
2. Delivery Lunch for Employee of the Month
In the same vein, you may not be able to take your star employees out for a one-on-one meal but you could surprise them with a Postmates or UberEats gift card so they can treat themselves.
3. Monthly Coffee & Tea Stipend
Gearing up for the day by sipping on coffee with your co-workers is a delightful aspect of working in an office. Keep the caffeinated delight going by sending employees monthly credit to a coffee shop or coffee bean subscription service.
4. Virtual Gym Membership
It's easy to get so overloaded when working from home that employees aren't incentivized to move, which can be detrimental to their overall health. Since most gyms are currently closed or limited, offering a virtual gym membership can help keep your team healthy and happy. Hosting a group Zoom class with a certified instructor could be a fun way to keep each other motivated and give employees permission to step away from their emails in order to work out.
5. Mental Health App Subscription
Lockdown can be especially difficult for people who are living alone—people across the country are struggling with feeling isolated and depressed. Long-term, this can mean employees feel unmotivated, listless, and less productive. Including a mental health app like TalkSpace for therapy or Headspace for meditation in your Work From Home plan will help employees stay on top of their mental health.
6. Telemedicine and Wellness Checks
Telemedicine has been growing in popularity the past few years, for good reason—it can reduce medical costs and save patients a trip to the clinic or hospital. Now with the pandemic in full swing in the US, telemedicine has exploded in popularity and it's helping people across the country keep hospital waiting rooms clear for COVID-19 patients while limiting their own exposure to the virus.
7. Wifi or Cell Phone Bill Reimbursement
Instead of using a company phone line or logging onto office internet, employees are taking on the burden of these expenses themselves. Consider offering reimbursement for a percentage of their home internet or cell phone bill to offset the expenditure.
8. Send a Care Package
When it comes to care packages, a little bit of thought goes a long way. Whether you're sending special company swag or a customized basket of their favorite snacks, getting a little something at their door can help employees feel connected to company culture even when they're working from home.
BONUS
If your employees live locally, take a few hours to show up (masked-up, of course) to their door with a thoughtful physical gift or care package. The personal touch of seeing their boss in person, even from a distance, can be incredibly meaningful.
–
Need help doing an Employee Benefits Audit? Email us at marketing@corpstrat.com.