(UPDATE as of July 4th 2020: On Saturday, July 4th, President Trump signed an extension of the small business loan Paycheck Protection Program (PPP) into law, according to the White House. PPP will now remain open to applications through August 8th.)
Update: As of June 4th, 2020, the House-passed Payment Protection Program reform bill was approved by the Senate. The PPP Loan forgiveness parameters have changed, please see all updates at our new blog post.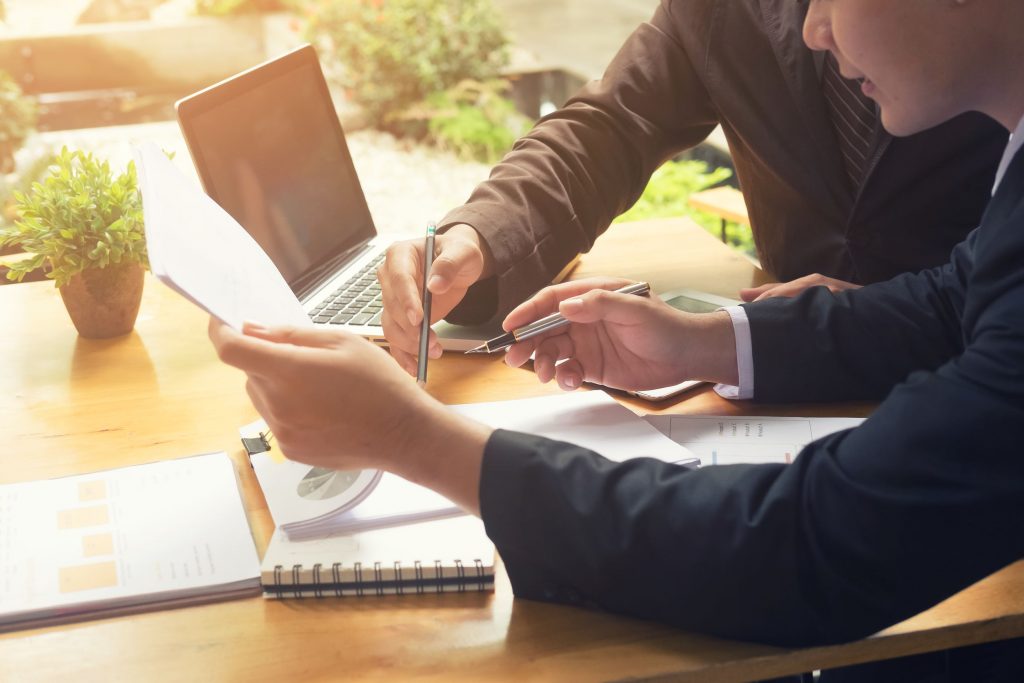 So you just received your PPP loan and you still have a lot of questions. You're not alone. It's a new program and the Small Business Administration (SBA) is still releasing new guidelines. The most pressing question we're hearing from employers who've received the loan is: How do I receive forgiveness on my PPP loan? Read on as we answer this and more FAQs you have about PPP loans. 
What is the PPP Loan? 
The Coronavirus Aid, Relief, and Economic Security Act, or CARES Act, was enacted to provide immediate assistance to individuals, families, and businesses affected by the COVID-19 emergency. Under the CARES act, the SBA was able to temporarily guarantee loans under a new program called the "Payment Protection Program" (PPP). PPP loans are designed to help small businesses, independent contractors and self-employed persons keep their workforce employed during the economic hardship many are experiencing due to COVID-19. Loans guaranteed under the PPP loan will be 100 percent guaranteed by SBA, and the full principal amount of the loans may qualify for loan forgiveness. 
What expenses are forgivable with my PPP loan?
In order to receive PPP loan forgiveness, you need to use the loan for eligible expenses. It is required that at least 75% of your PPP loan is used to cover payroll costs. The remaining 25% can go towards specified non-payroll costs that are essential to running a business. (Updated forgiveness parameters as of June 4th, 2020. See our new blog post.)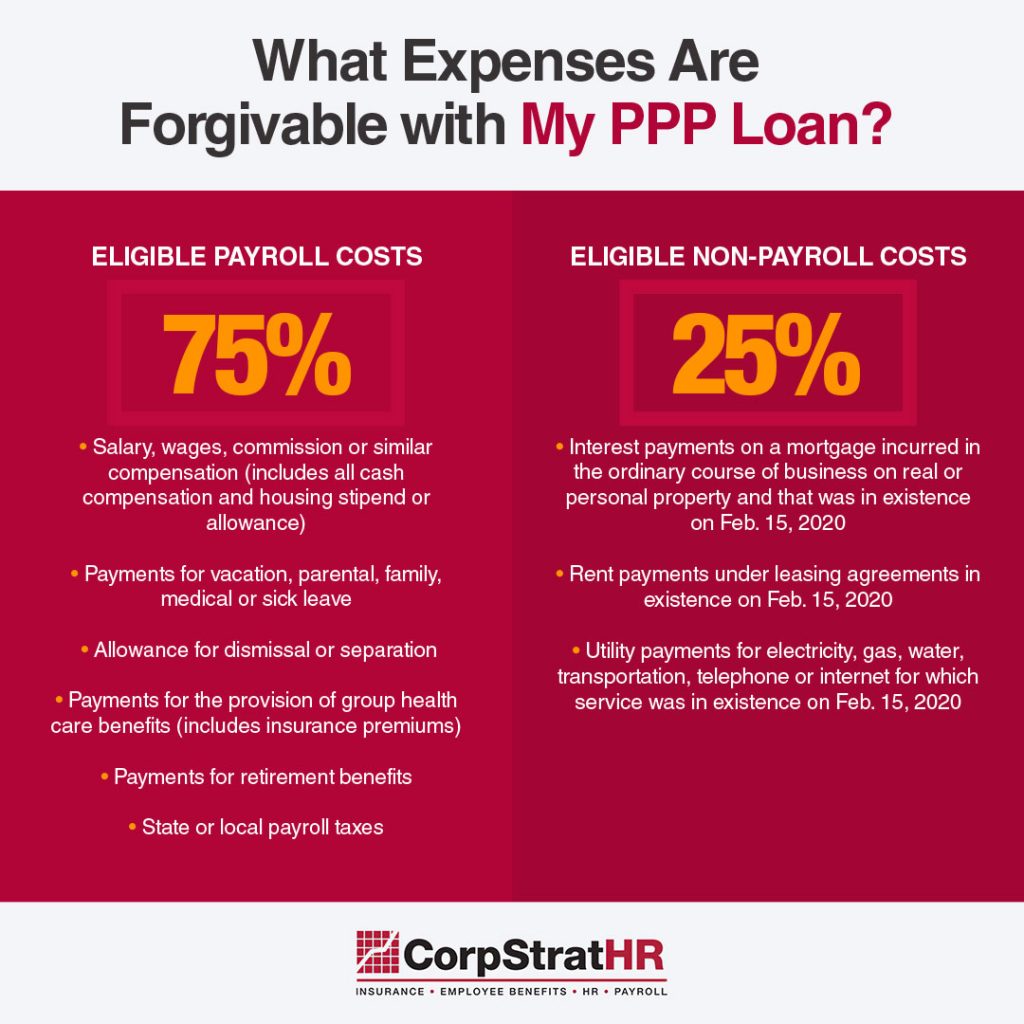 Speaking of forgiveness, is the PPP loan all or nothing?
No. Whatever portion is not forgiven can be retained and repaid over a 24 month period at just 1% interest. (Updated forgiveness parameters as of June 4th, 2020. See our new blog post.)
If I laid off employees – do I have to hire them back?
No. But, the loan forgiveness amount will be reduced if the business has reduced its number of full-time equivalent (FTE) employees or has reduced the salary or wages of certain employees based on the following formulas:
Formula for reduction in FTE employees: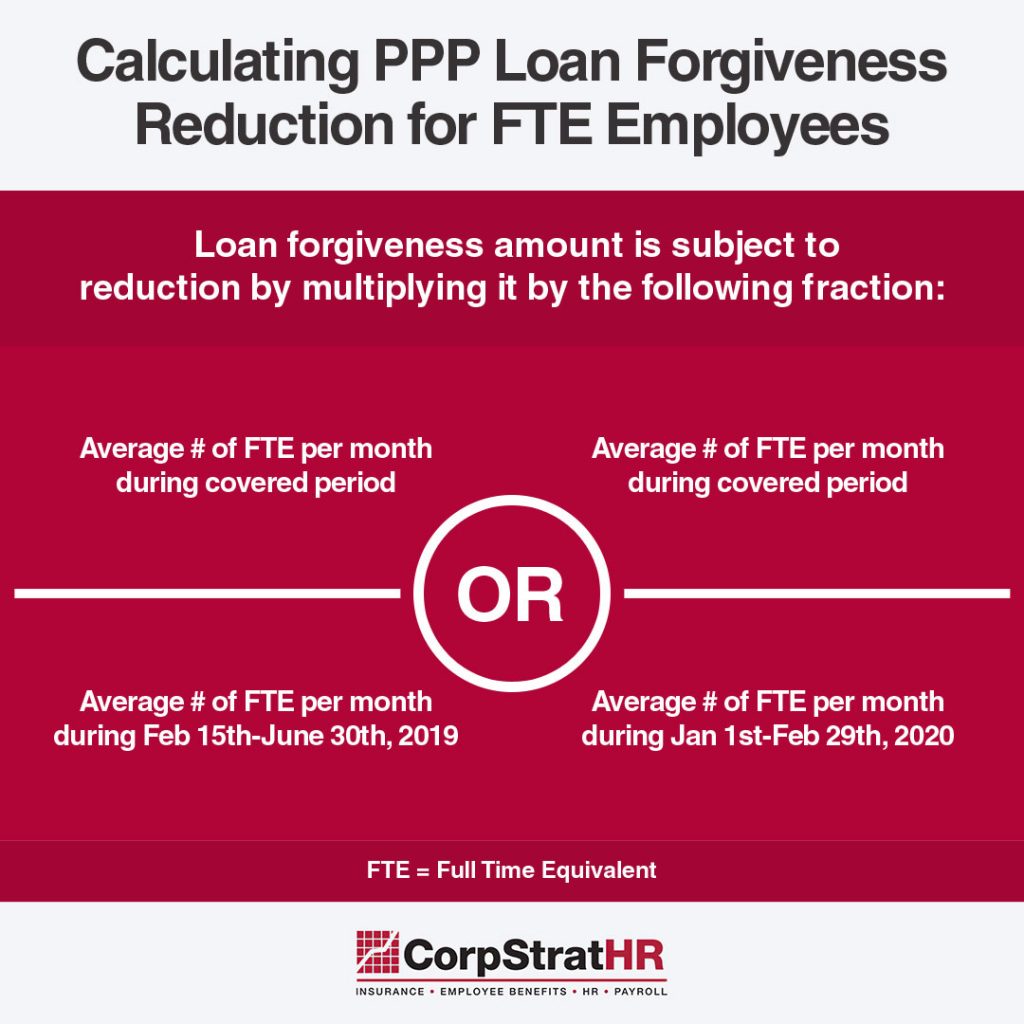 What percentage of the loan has to be used towards payroll?
Not more than 25 percent of the loan forgiveness amount can be used towards non-payroll costs (i.e.,mortgage interest, rent and utilities). Additionally, proceeds from any advance up to $10,000 on an Economic Injury Disaster Loan (EIDL) will be deducted from the loan forgiveness amount. (Updated forgiveness parameters as of June 4th, 2020. See our new blog post.)
When does my eight-week period start?
The covered period begins on the date the lender makes the first disbursement of the loan, this means it begins the first day a loan payment is sent out. 
After 8 weeks I can't afford to keep my employees – what do I do?
Once the 8 weeks is up, continue running your business as you would otherwise do so. Even though it's a difficult step, moving forward with furloughing or termination if necessary will allow your employees to sign up for state and federal resources. Note that any change in employment status requires paying out any PTO or unused leave. (Updated forgiveness parameters as of June 4th, 2020. See our new blog post.)
—-
We understand that these are confusing and uncertain times. That's why we're always here to help, contact your CorpStrat rep with questions, anytime! Call us toll free at (800) 914-3564 or email us at info@corpstrat.com.