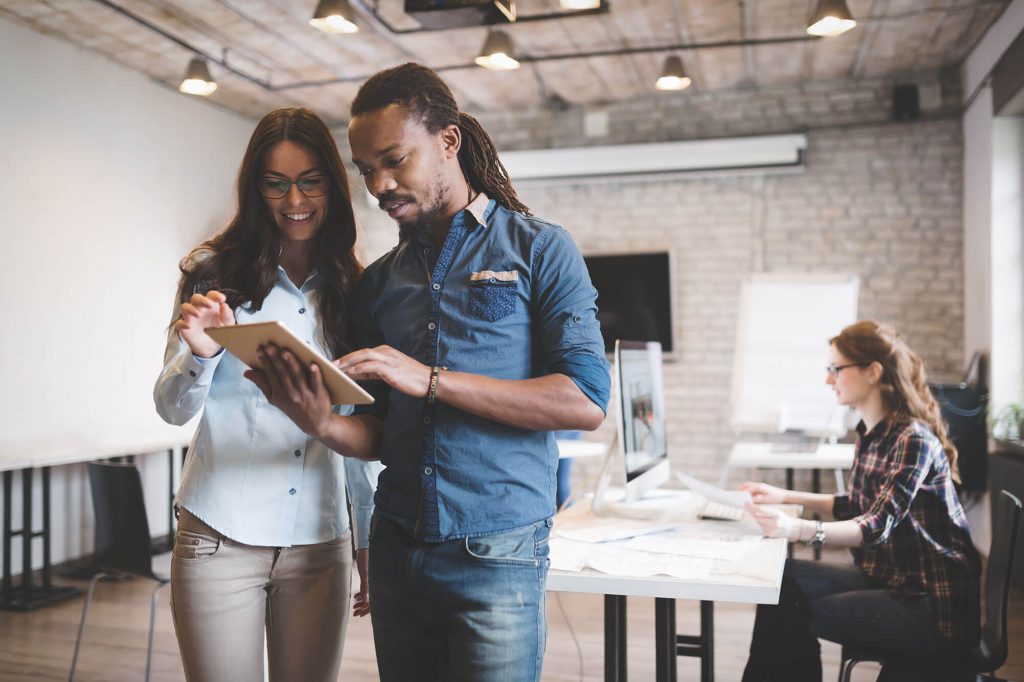 Chances are your employees have the latest phones packed with futuristic apps that work seamlessly to support their daily tasks—from working out to purchasing meals. It's no secret, modern workers have come to expect the same flexibility and convenience in their professional lives as they encounter in their personal lives. Unfortunately, Human Capital Management (HCM) technology hasn't exactly kept up, leaving employees with subpar apps that are neither intuitive nor effective. 
This can quickly lead to a lackluster employee experience. In fact, 48% of employees surveyed said they wished their workplace technology performed the same way as their personal technology. Technology is a major component of the employee experience and being able to deliver well-designed solutions where and when your team needs them is becoming essential to maintaining high retention rates. Better workforce automation technology is linked to better work/life balance, increased job satisfaction, and stronger feelings of team unity. 
Why is it important to learn from the success of popular apps?
Many popular apps feature a savvy combination of convenience and problem-solving. Many current HCM solutions are neither convenient for employees nor do they actually solve a problem leading teams to revert back to outdated solutions. For example, if a mobile app isn't robust enough, HR teams can often be forced back into relying on paper or asking employees to stop what they're doing and sit down at a desktop computer. With many "deskless" workers, like those in manufacturing or retail, this can become a huge hassle and cut into valuable work hours.  
Delivering a consumer-grade, responsive HR experience to your employees is a must-have in today's competitive employment environment. With a diverse workforce that includes remote employees, contractors, gig workers, and more, responsive HCM solutions let you reach and engage workers in a meaningful way — whether they're in a traditional office, coffee shop, vehicle, or working on site. When all employees have access to modern, flexible solutions to common HR questions and problems, organizations can realize demonstrable increases in productivity and engagement.
Why our Workforce Ready platform can improve your employee experience:
We believe that our Workforce Ready HR solution is able to deliver your team responsive, convenient, and robust technology that aligns with your company goals, will improve your employee experience, and increase your bottom line. Here's what's great about Workforce Ready: 
1. It simplifies and streamlines tasks.
We believe that no matter what device is being used, it should be easy for employees to find specific, day-to-day actions they need to complete. Workforce Ready's easy to use mobile app ensures there isn't any confusion about which area of the app does what or how to get there.
2. It empowers employees.
With Workforce Ready, employees are able to carry out all tasks on any device, giving them autonomy and making them feel engaged in their work
3. It keeps teams unified.
Having a slew of different apps and separate systems is confusing for you and your employees. Workforce Ready offers a unified platform for all your HR activities that can translate seamlessly to any device.
Giving employees convenient access anytime, anywhere to key processes like benefits enrollment, direct deposit, timesheet submission, and vacation requests allows them the flexibility to make requests and submit important information in a timely manner, rather than having to wait for access at the office. It's great on the managerial side as well, managers can quickly get actionable, visual displays of key workforce metrics, letting them catch and address changes quickly and reward top talent immediately. It also frees up HR to focus on bigger strategic company goals rather than administrative tasks and push forward innovative employee programs rather than becoming bogged down by approvals and paperwork. 
–
Want to upgrade your team's HCM tech? Schedule a call with us today.