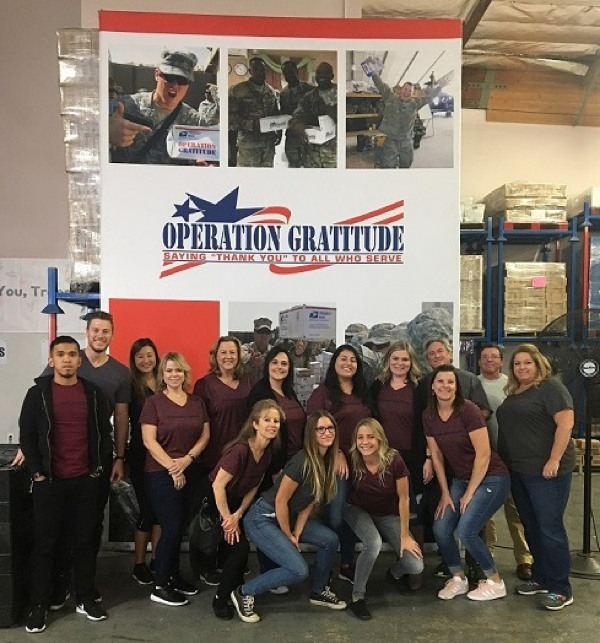 This month our office coordinated a really special culture building event. As a team, we chose an organization that was in need of our time, money and efforts to a community where giving back is important. 
We spent the afternoon at Operation Gratitude in Chatsworth California, an organization that sends nearly 300,000 individually packaged care boxes to Veterans, Wounded Heroes, and their Care Givers.  Through collection drives, letter writing campaigns, craft projects, and care package assembly events, Operation Gratitude provides civilians anywhere in America a way to say "Thank You" through active, hands-on volunteerism.
What We Accomplished
Upon arrival, the CorpStrat team were given a tour of the entire facility at Operation Gratitude, where we were shown all of the various items Americans donate to the organization to send to our troops.
Then as a group, we put together care packages with necessities such as toiletries, protein bars, energy drinks, scarfs and letters written by American's to give the troops hope during their time of service.
We even played a part in stuffing plush toy teddy bears that the organization receives from donations! Operation Gratitude provided us with the stitched shell of the bears to start off with. Next, we put all of the stuffing into the bears to 'perfect' them, making sure the bears had the right amount of stuffing (without ripping the seams).
Once completed, the bears were packaged with all other care goods and sent to family members who currently have someone serving. In the end, we were successful in stuffing and making about 30 bears and 100 care packages.
It's charitable donations like these that CorpStrat employees feel inspired to drive change in our community and within our organization. Because when you build a company culture of giving back you set the stage for a purpose-filled environment that inspires passion and change.