The Life Insurance Audit™
Is your life insurance working for you?
Imagine that you own an extremely complex planning instrument, and had no tools to measure its effectiveness, determine it is working properly, or benchmark the performance against other opportunities in a rapidly changing financial services economy.
Further, imagine that the instrument is so valuable that your family may have to depend upon it to live, educate, pay your debts, complete your business obligations, and create a legacy upon your premature death.
That seemingly complex instrument is cash-value Life Insurance. When properly designed, it has the ability not only to assure a lifestyle, it can also become one of your most sizable assets and create supplement retirement income. This is in addition to the tax advantage of the cash accumulation and death benefit.
DO YOU KNOW HOW YOUR POLICY WORKS?
With over 3000 insurance companies, thousands or licensed agents, and seemingly endless plan types and policies, it is no wonder that many people have little understanding of the complexities and mechanics of how their policies work.
Our experience has shown that lack of confidence with respect to financial planning, and in particular, life insurance coverage, is an area that can cause many poorly designed plans due to the face they lacked tools to measure and determine the effectiveness of their plans.
Read Our Articles
GET THE BEST POSSIBLE SOLUTION: THE LIFE INSURANCE AUDIT™
We have taken years of experience and developed a process called The Life Insurance Audit™. The Life Insurance Audit™ is a proven, objective system, which ensures clients have the best possible insurance solution available in the market today.
The Life Insurance Audit™ is a process that helps professionals analyze and measure the effectiveness of their life insurance plans, evaluate current and future projections of performance, determine if a current assessment of the clients health can help to improve their position, or, validate a purchase made as "sound".
The audit provides a consultative review of each policy and provides the client with a professional presentation and analysis.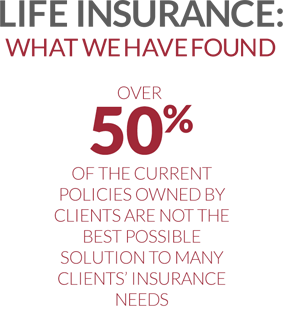 REASSESS YOUR CURRENT POLICY
Much is changing in the life insurance industry. People are living longer and due to substantial product and underwriting improvements, many in-force life insurance contracts many no longer provide the most efficient solution. We have found that over 50% of the current policies owned by clients are not he best possible solution to many clients' insurance needs. (If left unattended, some policies may lapse or require significant increases in premium to continue.)
Life insurance is one of the most important financial planning instruments you own. Are you certain that your present policy is the best possible solution available?