Companies have relaxed their environment to reflect their culture and embrace the newer, younger employee mindset. Long gone are stoic office cubicles and personal workstations.
It's not uncommon to see dogs at offices, communal workstations, plug & play desktops, and a relaxed dress code. Some companies have abandoned hours entirely, seeking outcome-based employees. Other companies staff full-service kitchens and gyms, child daycare and even cleaners have become popular on larger-scale campuses.
Zappos CEO Tony Hsieh says there is a reason there is a key to their success: "A lot of people act different on the weekends versus the office. It's like they leave a big part of themselves at home. We encourage our employees to be themselves. We want them to be the same person at home and in the office."
Companies are welcoming a new unconventional office culture that offers perks such as telecommuting, flextime, tuition reimbursement, free employee lunches and on-site doctors. Business cards have faded to e-cards, and custom plastic emblazed nameplates are a thing of the past! It's a new world and a new workplace.
At CorpStrat, we identified a fun way to show our pride, distinguish our environment and have some fun. While our people do have dedicated workspaces, we have embraced a "FAT HEAD" culture.
What's a Fat Head??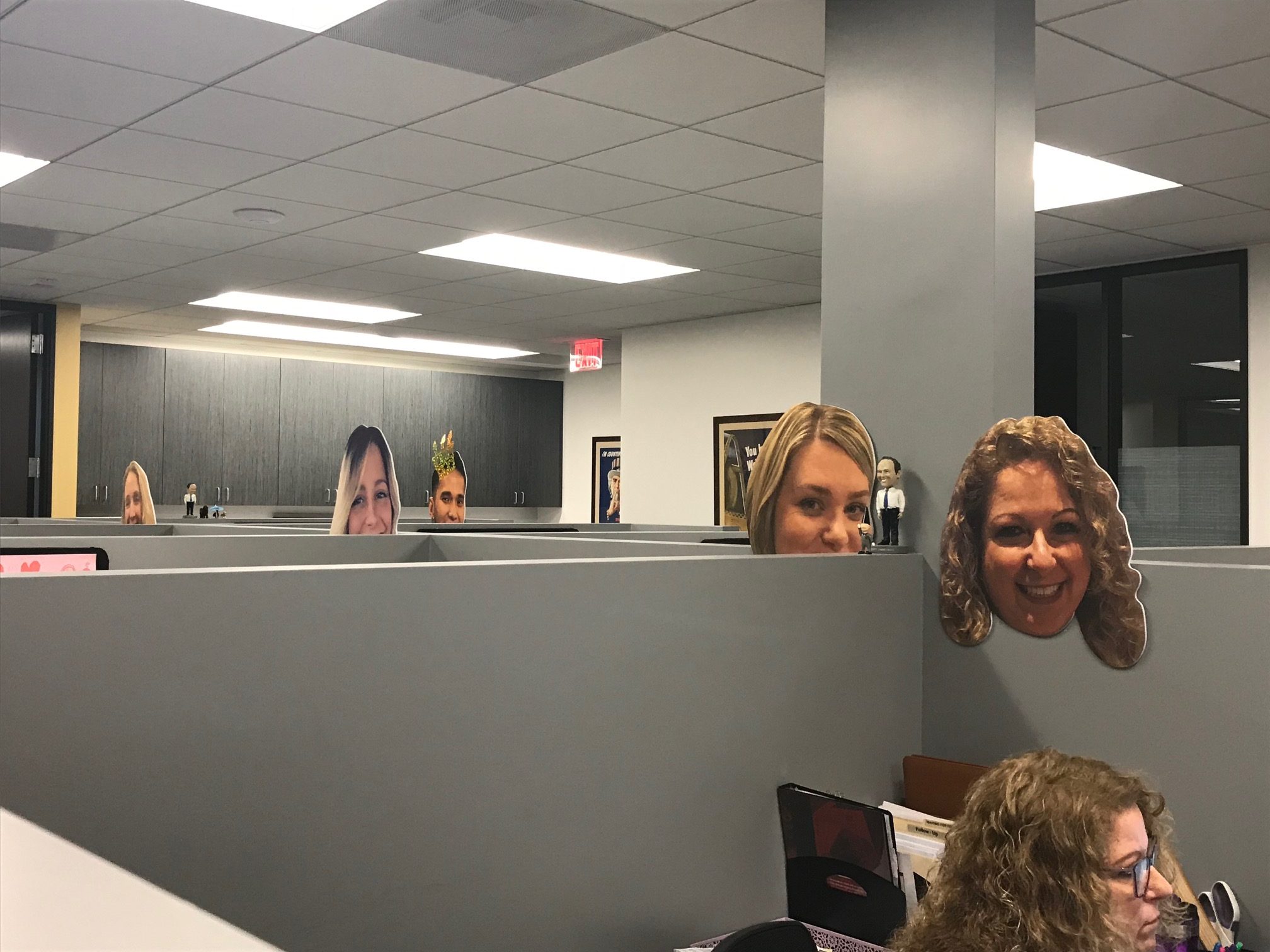 It's is an oversized cardboard cut-out – much like a selfie, a headshot; one that's 2 feet big.
The FAT heads are atop all of our workspaces. They are fun, colorful, and a great way to add vibrancy to our office. They show our diversity and a commitment to employee culture. Plus, seeing big, happy smiles all day never hurt anyone that works in a challenging business like ours.
Fat heads are just one way we tackle workplace stress and cultivate a fun and interactive atmosphere at CorpStrat. Nothing builds camaraderie in any workplace than healthy interaction and playfulness.
Fat Heads are inexpensive, and a great way to show our people we care. Its only one item in a growing list of the ways we want to show our loyalty, earn our employees' commitment, and embrace a positive workspace.
In the end, employees who feel appreciated are more positive and are more inclined to add towards the success of their organizations. A recognition-encouraging culture is more likely to have a high retention rate and though it may sound silly, Fat heads are a real fun way to work towards betterment.